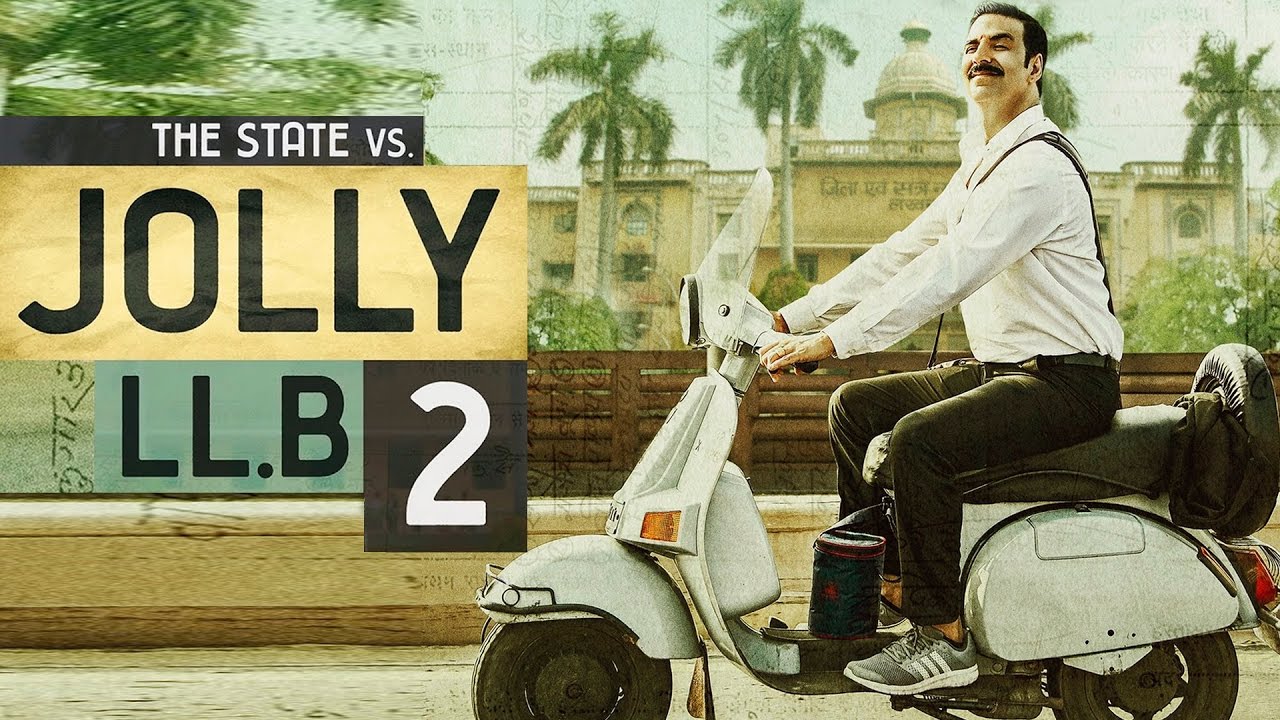 Film Review: Jolly LLB 2
Date: 10.02. 2017
Producer: Fox Star
Writer/Director: Subhash Kapoor
Cast: Akshay Kumar, Huma Qureshi, Annu Kapoor, Saurabh Shukla
Rating: 3.5 stars
Music: Manj Musik, Meet Bros, Chirantan Bhatt
A sequel to the year 2013 release  Jolly LLB a satirical black comedy, written and directed by Subhash Kapoor, Jolly LLB 2 once again, addresses the Indian legal system.
If earlier, Jagdish Tyagi/ Arshad Warsi fought to defend six innocent accused against the arrogant lawyer Tejinder Rajpal/ Boman Irani, the controversial case resolved by Justice Tripathi/ Saurabh Shukla in Delhi court.
Four years later, Jolly LLB 2 presents Jagdishwar Mishra/ Akshay Kumar shifted from Kanpur to Lucknow and still struggling for a living.  Jolly familiar with chaotic and dingy court corridors, survives by fighting petty cases in order to make a quick buck and earn a decent living.
He dreams of becoming a full-fledged Lawyer with a chamber and when opportunity knocks on his door, Jolly jumps at the chance and makes a mistake he lives to regret. Jolly is abrasive and ambitious but has his heart in its place and when he is faced with the horror of his action he is quick to make damage control. He is inexperienced but earnest and this time, fights for a cause!
His opponent is yet another powerful lawyer, the best in Lucknow, Sachin Mathur/ Annu Kapoor and once again the verdict is given by Justice Tripathi/Saurabh Shukla.
Jolly LLB won two national awards and Jolly LLB 2 is in every way a more engaging film than the prequel. What works about the film is the gripping narrative, the realistic characterizations and the ensemble performances – every actor in the smallest scene is spectacular be int the young Heena who meets with a tragedy or the senior Rizwi saab who speaks of his regrets in career.
Subhash Kapoor is a director of details and it is evident in the costumes, the choice of locations, production design and importantly, the dialogues – every character speaks in a different dialect and a vocabulary representing his temperament and roots.
In the prequel the film traveled us to Gorakhpur and Delhi, this time he drives into the narrow lanes of Lucknow, lingers over the ghats of Benaras and chases adventure in the valleys of Srinagar.
The minus of the film is that after the interval you feel stifled in the courtroom and that is precisely the motive of the film. To make you uncomfortable! If we as audience cannot sit through a single proceeding beyond a point, is it fair to expect that just 2100 judges will be able to address a total of 3 crore pending cases of a country? Is it fair that they battle with the web of  lies searching for truth, day after day and year after year sitting in this dingy room?
Jolly LLB 2 should be watched for the extraordinary performances – the prolific Saurabh Shukla who owns Tripathi in every expression and gesture, the amazing Annu Kapoor who exhibits a range of expression, the last is a masterstroke! The  self-assured Akshay Kumar who has quietly but surely evolved as the most dependable actors of his generation and above all, writer director Subhash Kapoor who rises above  family/ social/ legal issues to take a moral stand that truth always triumphs!