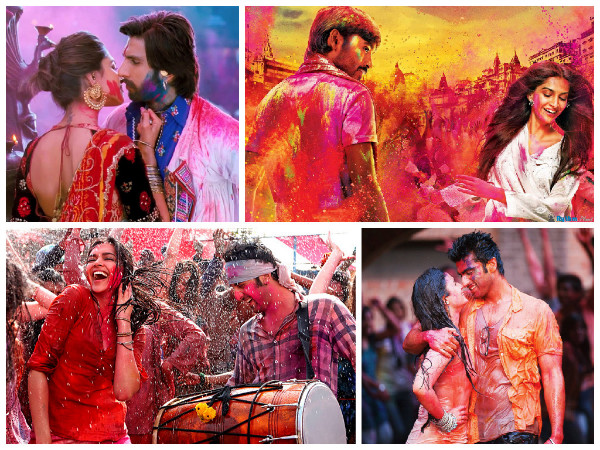 Hindi cinema has a legacy of romance woven through song-n-dance situations and the spell hasn't broken in over a 100 years. The festival of spring has a special relevance in our films and it is because every director has given it a different interpretation. For the legendary filmmaker V Shantaram ''Ari jaani natkhat, mat chuna mera ghunghat…' featuring Gopi Krishna and Sandhya in Navrang is an expression of seduction and a moment of unusual choreography.
For Yash Chopra bhang becomes an excuse for the lovers to rekindle an old affair in Silsila. The brazenness appeals to our basic instinct, interestingly Chopra a few years later used colour to evoke fear in the Shah Rukh starrer Darr.  For Subhash Ghai, it was a moment of confrontation between Shammi Kapoor and Jackie Shroff in Hero and reconciliation between ageing warring friends Raaj Kumar and Dilip Kumar in Saudagar.
For Rajkumar Santoshi it was an excuse for mischief in Damini and for Ramesh Sippy, a celebration for Ramgarh residents in Sholay. The director very beautifully combines the sad with the happy moments, where we watch a younger Jaya Bhaduri chasing her to be father-in-law Sanjeev Kumar's tonga challenging to colour his spotless kurta and juxtapose it with Jaya as a widow watching the gaiety from a temple perched on the top of a hill.
Mani Ratnam it is redemption in the Kunti –Karna story retold as Dal-Pati. A 13-year-old delivers her illegitimate baby in a shed and abondons him on a moving train as the villagers dance around the bonfire. For 30 years the ghosts of her morbid past haunt the guilty mother/ Srividya and the only way she can  find solace is if her neglected son/ Rajnikant forgives her.
In Phagun Waheeda's father, a zamindar has presented his daughter an expensive sari for the spring festival which Dharmendra in a romantic moment soils it with colour. Waheeda is obliged to reprimand her husband in the presence of the invited guests to pacify her father. He feels insulted and walks out on his pregnant wife to return only 20 years later, after he has collected a shop full of saris for his wife.
@bhawanasomaaya