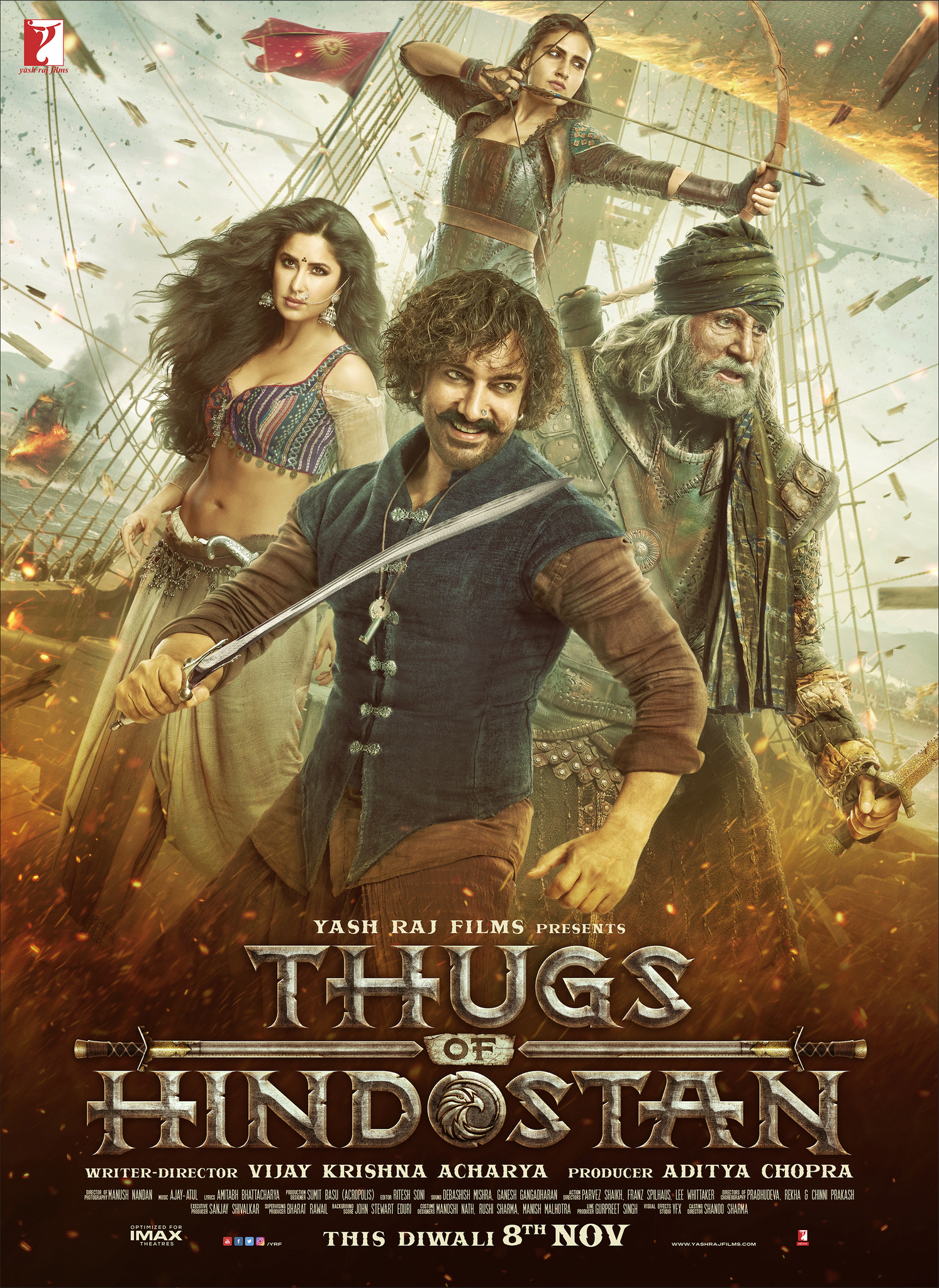 Film: Thugs of Hindostan
Date: 08.11.2018
Producer: Aditya Chopra
Writer-Director: Vijay Krishna Acharya
Cast: Amitabh Bachchan, Aamir Khan, Katrina Kaif, Fatima Sana Shaikh
The little princess decorates her sand castle with the royal flag while waiting for her mentor.
The king and the queen are anxious too as this is the first time the prince accompanies him.
Set in 1795 Vijay Krishna Acharya tells the story of old India, the royalties and their palaces and also about the British East India Company threatening our freedom.
Eleven years later John Clive/Lloyd Owen continues to be the antagonist while Khudabaksh Azaad/ Amitabh Bachchan is the loyal warrior who dreams to free Hindostan.
The other protagonists include Firangi Mallah/ Aamir Khan, a small-time thug from Avadh who will sell his soul for money. He rides a donkey that he addresses as 'Nawab' and plays the flute to signal his folks of an opportunity.
The beautiful Suraiya/ Katrina Kaif, is a court dancer now engaged to entertain the foreigners and Zafira/ Fatima Sana Shaikh, the only survivor of the royal family sworn to vengeance.
It is important to emphasize that the scale and the grandeur of the film is extraordinary. The production and art design is diligent and flawless.
The film excels in every technical department, costume, choreography, cinematography and most important action.
Precisely written and passionately directed Vijay Krishna Acharya grips you with a screenplay combining diverse characters and thought-provoking dialogues.
This is a film more about star presence than performances. Katrina Kaif adds spice with her beauty and dances. Fatima Sana Shaikh the Dangal girl is convincing in both, action and emotional sequences.
As Firangi Mallah Aamir Khan is deliciously wicked and has you hooked on to him as long as he is on the screen.
Hats off to Amitabh Bachchan and his super timing as an actor. As a warrior, he rides a horse, shoots arrows, jumps off the cliff and dives under water. As a father, he sings a lullaby. In his abode, he is the messiah, locked in chains he resembles Jesus Christ.
Thugs of Hindostan is long, slow, takes many liberties and has continuity problems. The texture and the pace take a while to grow on you and the audience has to be patient.
The film is different and not of everyone's taste. It is worth a watch for the message, intention, effort and the combination of Khan and Bachchan.
I rate Thugs of Hindostan with 3 stars.
Bhawana Somaaya