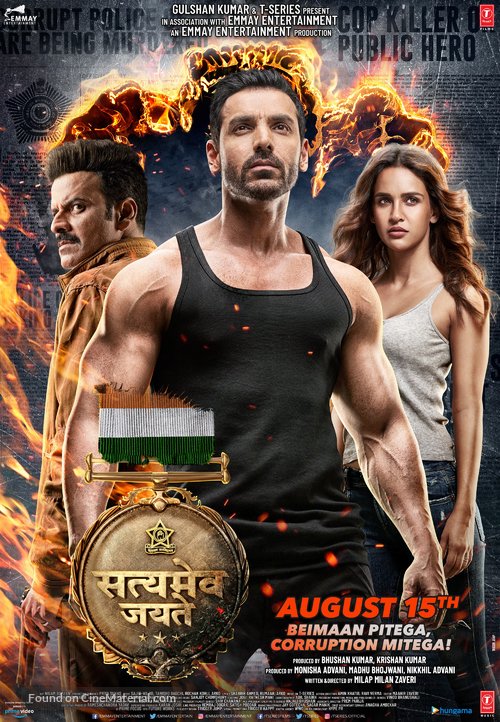 Regular action masala film
Film: Satyameva Jayte
Date: 15.08.2018
Director/ Writer: Milap Zaveri
Cast: John Abraham, Manoj Bajpayee, Aisha Sharma, Amruta Khanvilkar, Nora Fatehi, Myrah Dandekar
Music: Sanoj Chowdhury
He knows everything there is to know about his victim and follows them till he is ready to strike. His way of killing them is to burn them alive sometimes in their home, sometimes at their workplace, sometimes making it appear as an accident and sometimes in full public view.
Veer/ John Abraham is a charcoal artiste who paints portraits but his goal in life is to hunt corrupt cops and to punish them.  He does this systematically and always warns the police station of his next move.
Police officer Manoj Bajpaye is on a family vacation and summoned on duty to nab the killer and while he cracks the jigsaw puzzle of his modus operandi he fails to nab the culprit.
First a few clarifications: Satyameva Jayte is not a patriotic film; it is just releasing on the Independence Day and it is a regular mainstream masala film.
What makes it different is that it is cop specific where the hero fights corruption from outside the system!
Writer-director Milap Zaveri serves you plate full of action sequences where human bodies are reduced to coal before the final message can be delivered.
And to make it palatable he adds family drama, a little romance, an item number, a flashback and a twist in the tale.
Satyameva Jayte is for the hard core formula film fans, watch it if you enjoy John Abraham do dare devil stunts or are fans of Manoj Bajpayee.
I rate Satyameva Jayte with 2.5 stars.
Bhawana Somaaya