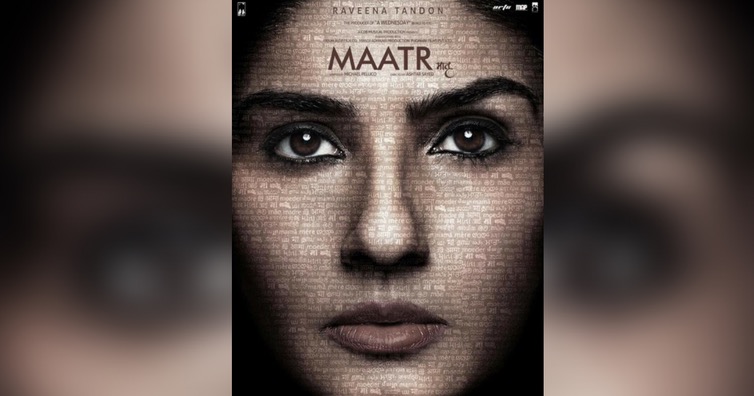 Film Review: Maatr
Date: 14 April 2017
Director: Ashtar Sayed
Writer: Michael Pellico
Cast: Raveena Tandon, Madhur Mittal, Divya Jagdale, Saheem Khan
Rating: 3. 5 stars.
After the school annual day, Vidya Chauhan/ Raveena Tandon, a school teacher and her daughter Tia/ Alisha Khan are stuck in a bad traffic jam and Vidya takes an alternate route that lands them in a ditch. Mother and daughter are pulled out of the ditch by a car following them and taken not to the hospital but an empty apartment.
What follows is a nightmare that exposes Delhi's high class society comprising power brokers, corrupt police and a flawed judiciary.
Maatr is yet another story of yet another rape victim pronounced guilty for the tragedy and ostracized by the immediate family post the ravage.
Many things go in favor of the film. First, the screenplay, writer Michael Pellico briefly but precisely establishes equations in relationships, for instance you get to know early in the narrative that all is not well between Vidya and her husband/ Apurva Malik and her support comes from her artist friend Ritu/ Divya Jagdale.
You learn that Inspector Shroff/ Anurag Arora is a pawn in the system and there is relief in his voice when he watches the flames go in air in the climax and exclaims 'It is finally over'.
The film excels in all the technical departments. Hari Vedantam's seductive cinematography combined with Manoj Magarr's razor sharp editing and Utkarsh Umesh Dhotekar's haunting music, grips you to the engaging narrative from the start to the finish.
Director Ashtar Sayeed repackages the old revenge formula into a chilling, stomach churning story of contemporary India that will leave you wounded and inspired at the same time!
What is disappointing is that the plot overlooks some relevant details: The characters live in sprawling apartments without any domestic help or any indication of neighborhood. For an accident that was breaking news, it is surprising that Vidya goes back to her job without any corridor gossip or paparazzi both at home, school.
Diyya Jagdale as Raveena's friend and Anurag Arora as Inspector Shroff make an impact but the film finally belongs to Raveena Tandon who internalizes her anger to deliver a consistent and understated performance.
It is difficult to believe that the actor has been away for 14 years, we last her in Satta/ 2003. There's one problem though, Vidya Chouhan is distractingly attractive to be missed in a crowd or to be passed off as a school teacher.
Maatr is not an easy watch but make the effort because it is about changing ourselves. I rate Maatr with 3.5 stars.