As 2016 draws to a close, Film Heritage Foundation (FHF) looks back with satisfaction at a year of growth and accomplishment, building on our efforts and initiatives to save our cinematic heritage. But the year has been tinged with sadness with the passing away of our mentor P.K. Nair, the custodian of India's film heritage, on March 4, 2016. He will be sorely missed.
Film Preservation & Restoration Workshop India 2016 (FPRWI 2016)
FPRWI 2016 grew out of the success of the first ever Film Preservation & Restoration School India that FHF conducted in Mumbai in 2015. FPRWI 2016 was a 10-day workshop from February 26 – March 6, 2016 that we conducted in partnership with the National Film Archive of India (NFAI) and the International Federation of Film Archives (FIAF) in association with George Eastman Museum, L'Immagine Ritrovata and The Film Foundation's World Cinema Project. The course was certified by FIAF.
This time we were more ambitious. We took the workshop to the NFAI in Pune – the only major film archive in the country. The workshop was longer, more advanced and intensive with a wider scope that covered the preservation of both filmic and non-filmic material with a greater focus on hands-on training.
The goal of the programme was not only to support the government by improving the infrastructure of the NFAI and the skills of their personnel by giving them access to world-class trainers, but also to continue our commitment to building an indigenous resource of archivists and restorers. Clearly our efforts have borne fruit as the NFAI has started on the National Film Heritage Mission with a clear idea of international best practices with inputs from world experts in the field and the awareness of the need to ameliorate their skills and knowledge to complete the mammoth task.
We were fortunate to have a superb faculty that included David Walsh, Head of the FIAF Technical Commission, Paolo Cherchi Usai, Senior Curator of the George Eastman Museum along with a team of personnel from the L. Jeffrey Selznick School of Film Preservation, Thelma Ross, Head of FIAF's Cataloguing and Documentation, Davide Pozzi, Director of L'Immagine Ritrovata and his team.
Eminent actor Naseeruddin Shah was the Chief Guest at the opening ceremony and presented FHF's Award for Outstanding Achievement in Film Preservation and Archiving to Paolo Cherchi Usai and David Walsh. We were fortunate to have legendary thespian Kamal Hassan as the Chief Guest at the closing ceremony and presentation of the FIAF certificates to the participants.
This edition of the workshop had 61 participants from India, Sri Lanka and Bangladesh. FHF is proud to declare that we have now introduced over 100 individuals to the world of film preservation in a span of just two years. FHF at its first FIAF Congress in Bologna FHF was delighted to participate in its first FIAF Congress in Bologna in June 2016. It was a great learning experience to hear about the challenges and new approaches to film preservation and restoration and to interact and exchange views with fellow archivists from the world over. FHF was invited to participate on a panel titled "Challenges Worldwide: New Projects" along with representatives from archives from Egypt, Africa, Philippines and China where we could share the challenges that we faced as the only private not-for-profit film archive in a country where film preservation has been sorely neglected.
Do You Speak Cinema?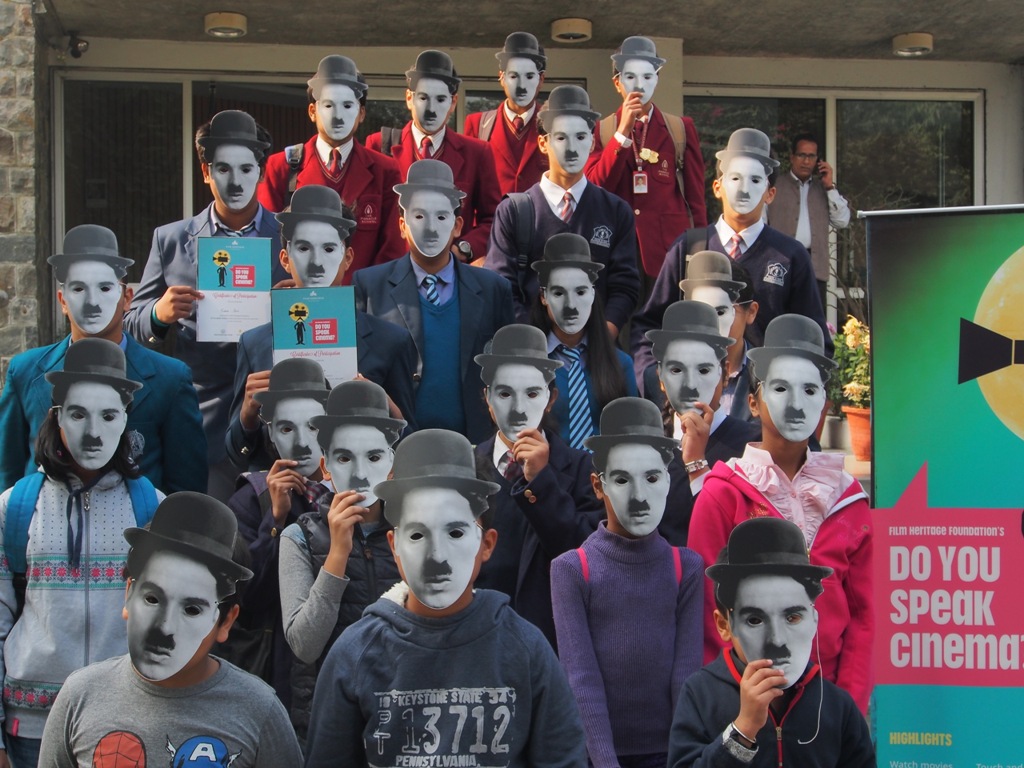 FHF has developed a unique programme of workshops called "Do You Speak Cinema?" aimed at immersing children in the magic of cinema, transforming the experience from mere passive viewing to actively engaging with this art form and teaching them the language of the visual image.
This project created a buzz right away. We kicked off this initiative with a one-hour module with 4-year-olds in the pre-primary class at the Cathedral & John Connon School in Mumbai. Children were introduced to hand-tinted films, early animation and Chaplin. Over a century later, it was clear that the magic of Chaplin remains undiminished.
In May, FHF conducted a two-day workshop for children from the ages of 8-12 at the CSMVS Museum as part of their children's summer programme. The children were taught about the pioneers of early cinema from Muybridge to Georges Méliès and were shown Lumière films on a 16 mm projector.
In December, FHF was invited to conduct the Do You Speak Cinema workshop at the India International Centre, Delhi on December 17 and 18, 2016. This workshop had a wider age group of children who were shown different formats of celluloid, asked to draw a scene in five frames and taught why we need to preserve films. FHF has already received several queries from across the country to conduct the workshops at film festivals, schools and cultural institutions.
Filmic and Non-filmic Additions to the FHF Archive
It's been a great year in terms of new additions to our filmic and non-filmic archive. FHF was fortunate to receive all P.K. Nair's books, film catalogues, correspondence, writings and his famous film diaries from his family.
Our first deposit of the year was the non-filmic material of JBH Wadia, pioneering filmmaker and producer and co-founder of the historic Wadia Movietone. The collection, deposited by his daughter-in-law Nargis Wadia and grandson Roy Wadia is a treasure trove that includes his personal diaries and correspondence, lobby cards, scripts, glass negatives, song booklets, posters, etc. right from the days of the silent era. The Wadias have also deposited the archive of Riyad Wadia, independent filmmaker and the grandson of JBH Wadia with FHF that includes films, photographs, screenplays.
We would also like to thank the Sikand family for donating the personal effects, trophies, paintings and documentation of the award-winning iconic actor of the Hindi film industry, Pran, the "Gentleman Villain" to our archive. negatives, books and Shilpi Bose, daughter of well-known actor Tarun Bose, has generously donated a wonderful collection of her father's personal effects and film memorabilia that include photographs from his film and theatre days, his costume from the 1969 film "Satyakam", his Cine Association Card and the original telegram from Bimal Roy Productions to the actor offering him his first acting job.
We were delighted to receive from Kundan Shah, director of the cult film "Jaane Bhi Do Yaaron" (1983), film scripts with notes, photographs, clapboards, film publicity material as well as U-matic tapes and VHS tapes of his classic television series "Nukkad".
Our film collection has also seen some very valuable additions. The last donation was received from a Mrs. Nirmala Karayi, whose late husband was Wing Commander P.K. Karayi of the Indian Air Force. The Wing Commander served as the Equerry-in-Waiting to Queen Elizabeth and accompanied the Queen and the Duke of Edinburgh on their Royal Tour of India in 1961.Warner Bros. had filmed the Royal Tour and Mrs. Karayi has presented two 16 mm reels of this film to FHF for safekeeping.
Our other notable 35 mm film deposits include Govind Nihalani's acclaimed films "Drishti", "Deham" and Drohkaal"; Vishal Bhardwaj's landmark films "Maqbool" and "Omkara" amongst others; Onir's film "I Am"; Chitra Palekar's film "Maati Maay" and Amol Palekar's Marathi film "Aakriet". We discovered that the original camera negative of "Drishti" was in a very poor condition and have placed it in a dehydration jar as the first step towards its conservation.
Future Plans
FHF will be publishing a book on the writings of P.K. Nair titled "Yesterday's Films For Tomorrow" that we aim to release at a function on his birth anniversary on April 6, 2017.
We will be conducting the next edition of the Film Preservation and Restoration workshop India in September 2017 in association with FIAF and other partners. This time we will take the workshop to South India – home to the Tamil, Telugu, Kannada and Malayalam film industries that are responsible for over 50% of the films produced in India.
We have moved forward with our vision of building a world-class film centre in India. Our architects have drawn up the plans and we will soon launch a fund- raising campaign to make this vision a reality. FHF renews its commitment to saving India's precious film legacy and requests your support and patronage in the year ahead.