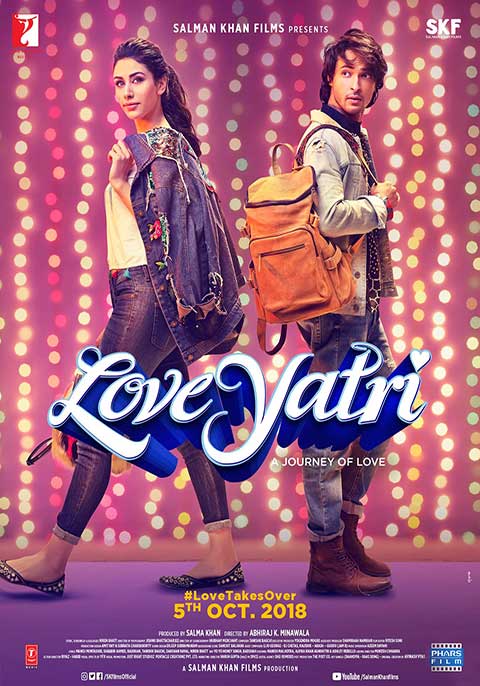 Film: Love Yatri
Date: 05 October 2018
Director: Abhiraj Minawala
Cast: Ayush Sharma, Warris Hussain, Ronit Roy, Ram Kapoor
The film was originally titled Love Raatri but on the objection from the CBFC the title has been altered to Love Yaatri.
Sushurat / Ayush Sharma lives with his parents in Baroda and has no interest in studies and comes alive during Navratri festival because dancing garba is his passion and dreams of launching a Garba Academy someday.
Michelle/ Warina Hussain is doing her masters in London and visiting her uncle for Navratri where she happens to meet Sushurat in a Navratri celebration and they become friends.
He takes her sight-seeing, they romance, they quarrel and part ways.
There's nothing novel about the plot and that's because there's nothing novel about love.  And yet so many love stories succeed because they engage us in their unique process of finding love.
Unfortunately, there are no real reasons why the lead pair gets attracted to each other, no real reasons for them to get attached either. The girl has come to spend quality time with her extended family but they are eliminated from the narrative until it is time for conflict.
The best sequence in the film is the seasonal montages after the lovers are separated. The most hilarious moments are when Ronit Roy invites Ayush Sharma to accompany him on a giant wheel ride in Baroda and then again in UK.
The biggest problem with Love Yaatri is that it fails to exploit the grandeur of the festival. Except for a brief shopping of costumes, there are no glimpses of the elaborate perpetrations and tradition attached to the nine nights.  The garba venue remains static without any alteration in lighting.
With better screenplay, music, and choreography the film had the potential to engage youngsters but unfortunately, that does not happen.
The best performance in the film comes from Ram Kapoor followed by Ronit Roy.  Ayush Sharma is vastly influenced by Salman Khan and it is evident in the way he walks and smiles. He makes a sincere debut but needs to work on his arched eyebrows.
I rate Love Yaatri with 2 stars