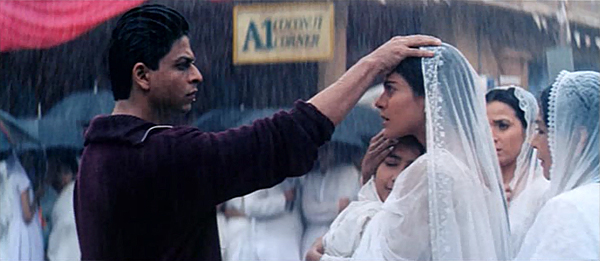 In the olden days every time it rained the Doorrshan for some mysterious reason only aired two songs. The first where a drenched Shatrughan Sinha sings 'Barkha rani zara jham ke barso…' and the second, Basu Chatterjee's 'Rimjhim gire saawan…'from Manzil where Moushumi Chatterjee and Amitabh Bachchan walk down Marine Drive hand-in-hand drenched in Mumbai's slashing rains. I have watched this song a million times but still stop to watch it every time it plays on the television.  It is a perfect image of torrential rain in Mumbai city.
Over the decades as satellite channels came in there were many choices of rain songs and that included 'Lagi aaj sawan ki…' from Chandani and 'Ko ladka hai…' form Dil Toh Pagal Hai both directed by Yash Chopra
My favorite song for today is Barkha raani zara jham ke barso …
My favorite scene: When Shah Rukh Khan takes an impulsive decision to marry Kajol on the story night in Kabhi Khushi Kabhie Gham.
For more on the #Monsoon Magic tune in @927BigFm Monday- Thursday all week.
Follow me on Facebook, Twitter, and Instagram  @bhawanasomaaya