I have often been asked why I have done three books on Amitabh Bachchan, what is it about him that could not be sufficed in one book. My answer to all my detractors and his fans is of them is that the three books encompass different aspects of Bachchan's life besides nobody has ever asked Satyajit Ray why he did a trilogy on Appu. He did three films because the story was not complete. I may do a fourth/ fifth even a sixth book on the superstar in the future if I feel like. It is my privilege as a writer.
 On his 75th birthday, I recap synopsis of the three books.  The first was translated in Hindi and there are plans of it going digital. The second is a masterpiece production and can be purchased from Osians and the third, my favorite, one of its kind can be purchased from Pustak Mahal.
AMITABH BACHCHAN: THE LEGEND 
Published by Macmillan India Pvt Ltd
Released in the year 1998
Priced at Rs.. 450/-
(Also available in Hindi- Amitabh: EK JIVIT KINVADANTI published by Macmillan India Ltd Rs. 385)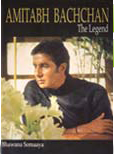 Amitabh Bachchan has played varied roles on screen, but off-screen the actor remains an enigma.  Admired, envied, hated, hounded, his celebrity status transcends national boundaries.
Published by Macmillan, the author captures the roller-coaster life of a superstar through incisive, introspective interviews.  And the protagonist, Amitabh Bachchan, takes it all head-on, emotional choices, professional commitments, candid confrontation with controversies, allegations et al.
Surviving both, the near-fatal accident on the sets, and political cesspool in real-life, his reflective personal accounts are beautifully blended with intimate analysis rendered by his actress-spouse Jaya Bhaduri, leading ladies and colleagues, a documentation of a legendary success and a collector's proud possession.
BACHCHANALI: The Films and Memorabilia of Amitabh Bachchan
Published by Osians – Connoisseurs of Art Pvt. Ltd
Released in the year 2009
Priced at Rs.3500/-
A collector's item of Bachchan's 135 films over 40 years with film posters and stories behind the scenes. In his four-decade-long career, Amitabh Bachchan has been a witness to all the turning points in show business both on and off screen. He symbolizes the evolution of Indian cinema in creativity and technology. His growing stature from an actor to a superstar is evident from his altering body language reflected in the film posters over the decades. He stands testimony to the changing trends in cinema as well as the socio-political scenario in the country. Amitabh Bachchan will always remain the touchstone of the entertainment business.
AMITABH LEXICON
Published by Pustak Mahal
Released in the year 2011
Priced at Rs.1000/-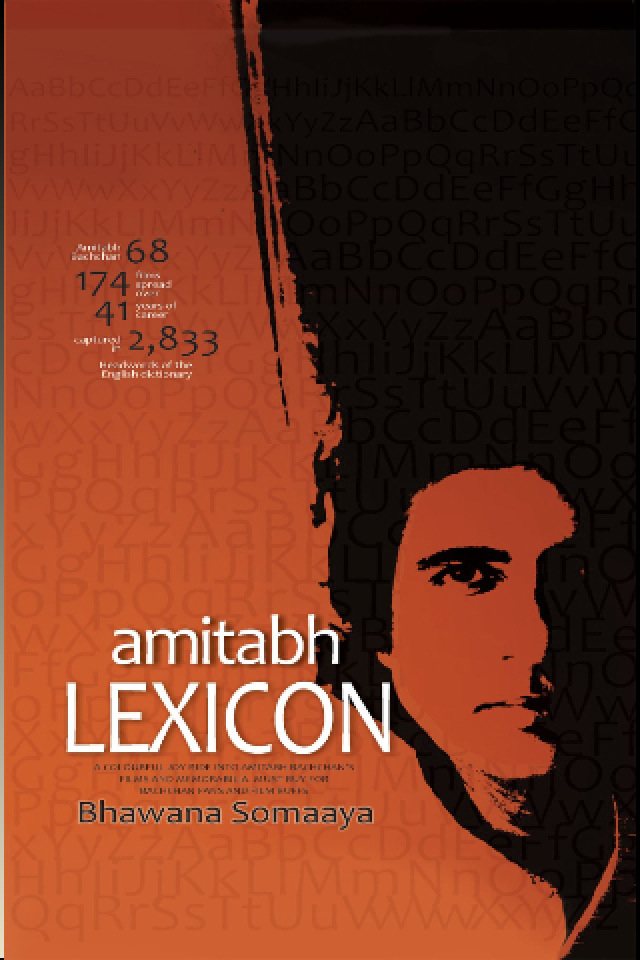 Amitabh Lexicon captures 2,833 headwords of the English dictionary into films of the actor spread over 41 years his magnificent career. It is a colourful joyride into Bachchan's memorabilia.
Forty one years and 174 films (and counting)… Amitabh Bachchan has long since sublimated the language of cinema that is peculiar to Hindi films. He has worked its verbs, overwhelmed its adjectives, brought to life its nouns, subjugated its predicates and predicated its subjects. This does render it easy for a writer to describe his phenomenon but then, makes it equally difficult to, when one seeks to summarize it.
Nearly every word in the English language could find its place in the cinematic vocabulary of Amitabh Bachchan.
Therefore, this attempt, to take you through a Lexicon of his various personas on screen – scenes where he made you cry, laugh, and all shook up. Like he says in his film Namak Halaal "Lo karlo baat…aree English to aisi ave hain ke that I can leave angrez behind… I can talk English, I can walk English, and I can laugh English…"
Those interested in purchasing Amitabh Lexicon can contact Rohit Gupta pustakmahal@gmail.com
@bhawanasomaaya