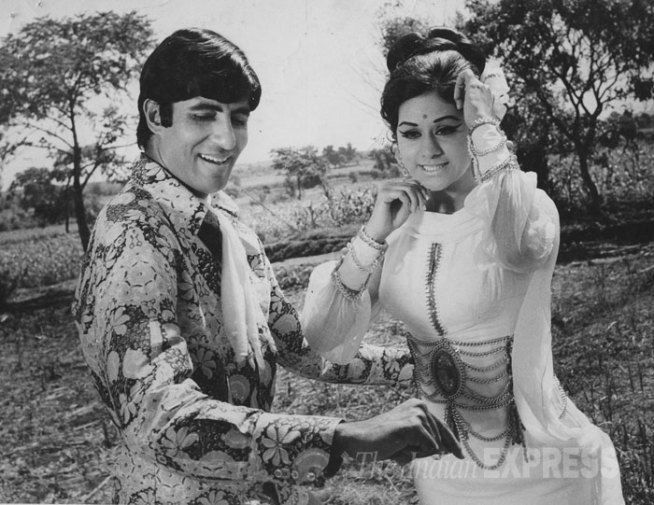 To begin at the very beginning, Amitabh Bachchan completed his graduation in Delhi and spent a few years in Kolkata working as an executive but his heart was restless and his brother reading his mind, one day clicked his pictures and posted them to a film magazine holding a contest for newcomers.
He was rejected for the contest but he decided to give his dream a chance and arrived in Mumbai at that time Bombay, carrying his driving license with him so that if nothing worked out for him, he could ride a taxi for survival.
He made his debut with Khwaja Abbas's Saat Hindustani/ 1969 with six other heroes but at the preview of the film it was Amitabh who caught the attention of the legendary Meena Kumari. 'Ye ladke mein baat hai' Meena Kumari told KA Abbas and true to her prediction, he won his first National Award for Saat Hindustani and a year later, in 1970 Amitabh featured as Dr Bhaskar with the then superstar Rajesh Khanna in Hrishikesh Mukherji's all time classic Anand.
A lot has been written about Amitabh's struggle in the early days but today, when I revisit his filmography, I realize he had just three years of waiting before stardom which is normal in showbusiness, so there is a possibility that the trauma he endured was not about the uncertainty but the recurrent rejections he was subjected to. His films were flopping one after another at the box-office and he was being replaced in projects without explanations. Top heroines refused to work with him, producers called him unlucky and directors said he lacked charisma. Journalists ridiculed him in their columns, said he was too tall and resembled a palm tree.
The dismissals hurt I'm sure but this was not the time for expression and Amitabh waited for his time.
Then just like it happens in films, one day, out of the blue, star writers Salim-Javed driving past Chandan Theatre, spontaneously decided to check out new release Bombay To Goa, liked the way Amitabh Bachchan projected anger on-screen and convinced filmmaker Prakash Mehra to cast him as the lead for Zanjeer/ 1973 and rest is history.
To be continued…@bhawanasomaaya