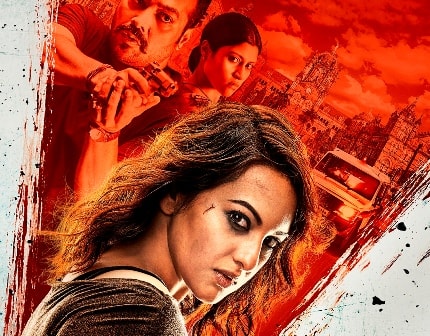 Film Review: Akira
Producer-Director: A R Murugadoss
Cast: Sonakshi Sinha, Anurag Kashyap, Konkona Sen
Rating: 3.5 stars
Based on Santha Kumar written 2011 Tamil film Mounathe Guru the film begins in Jodhpur where Akira daughter of a mute school teacher(Atul Kulkarni)is inculcated to stand up for truth. Her father trains her in Karate so that she can fight her battles and in doing so lands in the remand home for three years.
Fortunately, she does not carry the baggage and on release shifts to Mumbai to pursue her education.
The plus: Undoubtedly the writing, director Murugadoss along with Sanath Kumar, story and dialogues, Karan Singh Rathore diligently define every character and sub-text. The best thing about the film is that it's not only about Akira and women empowerment. The message travels beyond gender gaze to voice multiple social concerns like parental guidance, disability, corruption in police force, college ragging and the working woman, in this case a pregnant cop.
Other things that add to the engaging narrative is the hard hitting action, editor Sreekar Prasad's sharp editing and film's talented supporting cast. As the pregnant crime branch cop, Konkona Sen Sharma is underplayed and filmmaker Anurag Kashyap in the role of ACP is outstanding.
Sonakshi Sinha plays Akira with confidence and trust; she is as believable as the Karate queen hitting the villains as the responsible student in the classroom. This is her most challenging role as an actor physically and she gives it her best shot.
The minus: the second half is repetitive and the climax exaggerated, some issues like the college bully remain unresolved but one overlooks it for the noble message.
Akira is about empowering women, motivating students and meant for all those who believe in change. It is inspirational, responsible and most important, unpredictable. It is the chilling story of the most imperfect murder.
Bhawana Somaaya/ @bhawanasomaaya
My previous posts can be visited on the following link :
http://bhawanasomaaya.blogspot.in