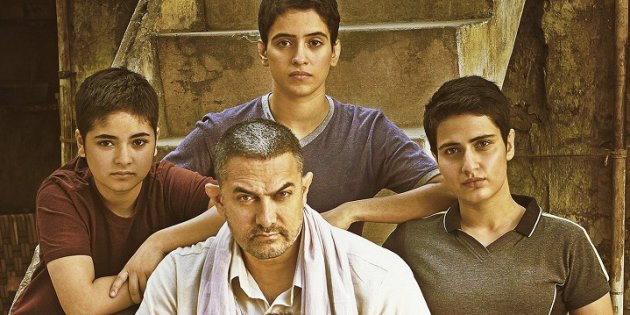 Producer: Aamir Khan, Siddharth Roy Kapur
Director: Nitesh Tiwari
Writers: Nitesh Tiwari, Piyush Gupta, Shreyas Jain Nikhil Mehrotra
Cast: Aamir Khan, Sakshi Tanwar, Fatima Saina Shaikh, Sanya Malhotra
Rating: 4.5 stars
Aamir khan produced and Nitesh Tiwari directed Dangal grips you from the very first scene and before you know it you are involved with the protagonist and his family, be it his unsteady reception of TV set, his office colleagues, his yearning for a son or his dream of winning a gold medal for the country.
Inspired by the national wrestler Mahavir Phogat the story travels many decades, regions and emotions. What works about the film is the detailed screenplay combined with fascinating characters and their complex relationships. Add to it Pritam's music, inspiring lyrics and path breaking message. It addresses family concerns, social preconditioning and national dreams.
There are magical montages in the film  featuring the early training…Geeta's first dangal at Rohtak and the changing scenario…There are moments that wound you like the father-daughter fight in the akhadda and moments that choke you like the telephone scene!
It is very rare that a film addresses multiple issues and retains the plot. Dangal champions for small town aspirations, revisits male gaze and confronts gender discrimination. It exposes egoistic coaches and calamities caused by power play in sports.  The film is as much about a teacher and his protégée as about a father-daughter relationship.
There's not a false chord in either the narrative or the performances. The supporting cast is marvelous and the film excels in every department: casting, costume, cinematography particularly the stunts choreographed to perfection by wrestling co-ordinator Bishnoi and aided by action master Shyam Kaushal.
Four outstanding actors make debut: Suhani Bhatnagar as young Babita, Sanya Malhotra as the grown up Babita Kumari, Zaira Wasim as young Geeta and Fatima Sana Shaikh as grown up Geeta travel you from district to state, sub junior to national and finally Patiala to Common Wealth absorbing you in their anxieties and victories that you are laughing and crying at the same time.
It is brave of Aamir Khan to play an out of shape old man. Khan lives Mahavir Phogat every scene, every moment.
In 2001 Aamir Khan introduced cricket to his audience in Lagaan. In 2007 he introduced Dyslexia in Taare Zameen Par and in Dangal he popularizes wrestling.
There are some films you want to pause and ponder over, some you want to debate and some, you want to experience!
 Dangal is an experience of change, strong, powerful and inspirational.
Bhawana Somaaya/ @bhawanasomaaya
My previous posts can be visited on the following link:
http://bhawanasomaaya.blogspot.in
* Check my Dangal review on YouTube : https://youtu.be/cylFS-f3HTs