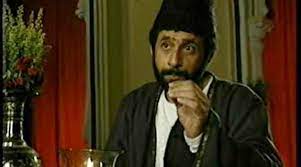 It is said that Mirza Ghalib would sit up all night by a flickering lamp, humming his thoughts, when he was satisfied with a verse, he tied a knot in a cloth as a reminder to write the poem the following morning.
Daem parha hue tere dar, par nahi hoon main
Khak aisi zindagi pe ke pathhar nahin hoon main.
In the morning, Ghalib would sit at his favorite spot and sing and pen the new verses and when satisfied with his writing, he would untangle the various knots, a rather unusual way of documenting work in progress, but then nothing about Mirza Ghalib was ordinary.
Ya Rab,zamana mujhe mitata hai kis liye
Loh –ejahan pe harfe mukarar nahin hoon main