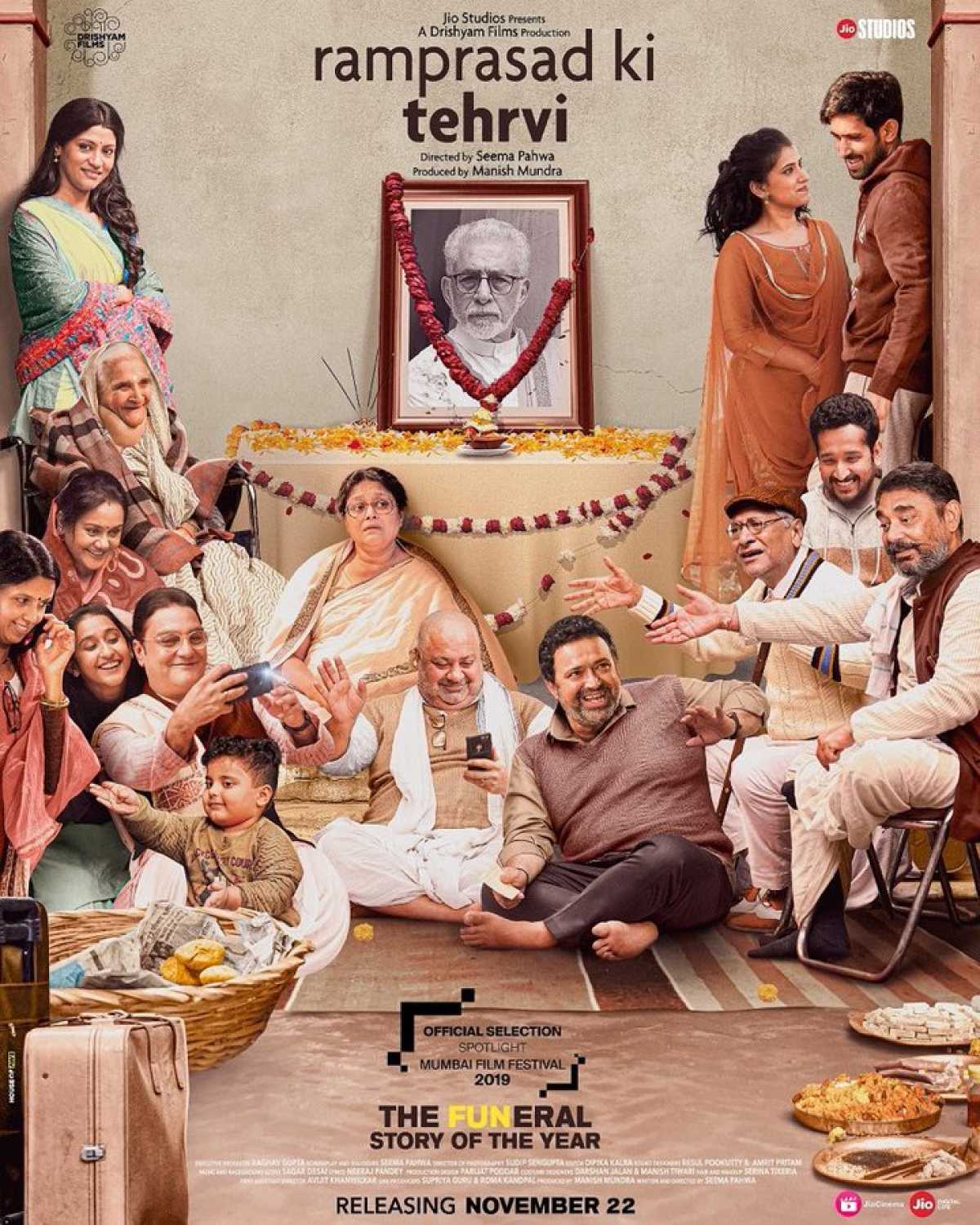 Film: Ram Prasad Ki Tehrvi
Release: 01.01.2021
Writer-Director: Seema Pahwa
Starring: Naseerudin Shah, Supriya Pathak, Konkana Sen, Manoj Pahwa, Vinay Pathak, Vikrant Massey.
Ratings: 5 stars
Writer- director Seema Pahwa began her career as a television actor and later she moved base from Delhi to Mumbai. She did innumerable films and was always acknowledged for her sparkling performances in all genre of films, be it the offbeat Aankhon Dekhi or the mainstream Bareilli Ki Barffi. Her first love remained theatre however where she continued to experiment with all kinds of roles and genres be it Aadhe Adhure or Aurat Aurt Aurat, one of her famous experiments on stage is about her cooking a meal as part of performance on her terrace and serving dinner to her audience.
A few years ago, when Seema sensed she was getting stereotyped by the mainstream makers, she diverted her creativity to stage and wrote/ directed/ performed a praiseworthy play called Peend Daan. She was keen to make the script into a film and asked many of her director friends to wield the megaphone but all of them refused, said she was the best woman for the job, and so reluctantly, Seema assumed the responsibility of her debut film, Ram Prasad Ki Teharvi.
This is a story of a funeral and what happens for thirteen consecutive days at a home that has lost a member. You will be surprised but it is not very different from a wedding preparation. Every time there is a wedding, the family members come together and participate in the celebrations. It is the same when there is a death in the family and nobody leaves until all formalities are completed.
Ram Prasad Ki Teharvi captures the arrival of various family members, their discussions and decisions relating to the last rites, intimation in newspapers, condolence protocol, allocation of rooms, beddings, blankets, duties in the kitchen, daily menus, and not to forget there are many shocks and surprises.
In my opinion, there are five good reasons to watch Ram Prasad Ki Teharvi. One, the plot: We have seen too many movies celebrating weddings, participated in the mehandis and the sangits, this is the first time that a director engages you in a tragedy that is entertaining. The film makes you happy, sad but most important, makes you look inward and introspect.
Two, the detailing in writing, set, costume, colours, design is remarkable. Ram Prasad/ Naseerudin Shah's sprawling mansion, the courtyard, the multiple staircases, the corridors, the many rooms on many floors, the beddings, the quilts, the different paintings and the suitcases all have a story to tell. The family is divided into groups where children play Ludo in the room, the women gossip in the kitchen and the men share a cigarette and drink on the terrace, so many layers, so many secrets.
Three, the characters: There are more than thirty characters and all of them are real. Ram Prasad and Savitri/ Supriya Pathak, their six children (four brothers two sisters) their spouses and children round up to about eighteen, add to it close relatives, close friends, some neighbors, some facilitators, some visitors and all of them have interesting back stories.
Four, performances: Supriya Pathak has the best tole in the film but every performance in the film is special. Featuring some of the best actors of theatre and of the big screen like Konkana Sen, Vikrant Massey, every character contributes to the narrative and more important, is presented with love and dignity.
Five, the message: It is important to show gratitude tant to our loved ones and say thank you and sorry. To assume responsibility, it is important to first delegate responsibility and it is important to appreciate music because if you understand symphony you understand life. Naseerudin Shah, who plays a musician says in a scene "Suron ko kabhi besura nahi chodna chahiye, iss se suron ka apman hota hai".
Writer-director Seema Pahwa does not leave anything incomplete, does strike a single false not., It is very rare that critics are fully satisfied with a film and with my hand on my heart, I admit that Ram Prasad ki Teharvi is an enriching experience. Thank you, Seema Pahwa, for this wonderful New Year gift.
Bhawana Somaaya