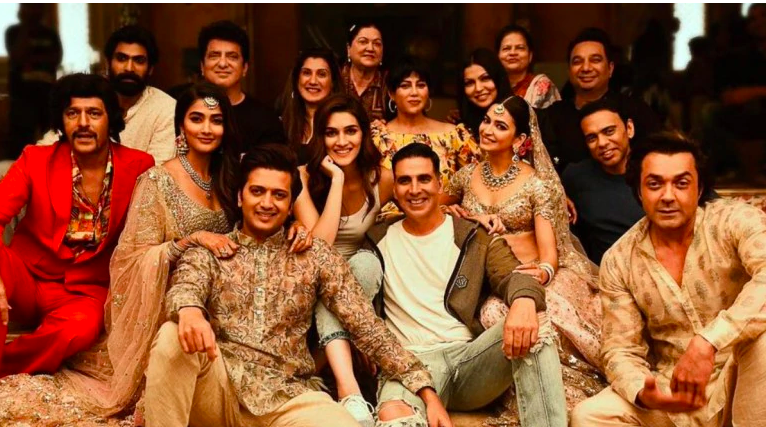 Madness
Film: Housefull 4
Release: 25.10.2019
Director: Farhad Samji
Writers:  Sajid Nadiadwala/ story, Fahad Samji/ dilogues
Cast: Akshay Kumar, Bobby Deol, Reitesh Deshmukh, Kriti Sanon, Pooja Heghde, Kriti Kharbanda
Pehle panchi tha, ab Twitter hai…
Pehle book thi, ab Facebook hai…
Pehle telegram tha, ab Instagram hai…
This is not information this is lyrics of Housefull 4…There's more…
The hero stands in the middle of the street and asks the heroine what comes after number 20. The heroine trifle flustered responds 'ekees'. The hero smiles and says 'Ek kiss please'.
Bad joke, well that's the level of dialogues in the film.
Three important characters in the film are the three pigeons and who are named believe it or not – Neil Nitin and Mukesh.  Another bad joke, and there are several more coming up soon.
Producer Sajid Nadiadwala is credited for the story of reincarnation in a comedy set up and you don't know whether to cry or laugh when the heroes go into a flashback mode of what happened 6000 years ago…
When Akshay Kumar was the crown prince of Sitamghadh, Bobby Deol the bodyguard of a princess and Ritesh Deshmukh a court dancer and the three heroines – Kriti Sanon, Pooja Hegde aur Kriti Kharbanda were princesses of a neighboring kingdom.
Cut to present times, the heroes work in a salon in London and are hounded by a slum lord. The girls are daughters of an affluent father and spend their time roaming aimlessly or just singing and romancing.
Call it a coincidence but all the six characters – rather the entire cast is reborn at the same time in the same place and wonder of wonders remember what happened to them 600 births ago, absolutely amazing!.
While the heroes on the screen travel into 1419 I sit in the auditorium and recall what we have been subjected to in the last nine years…
Housefull / 2010 served us song and dance, beach and bikins, also chimpanzee and tiger.
Housefull 2 / 2012 served us brides – grooms –big mansions and fancy cars.
Houseful 3 / 2016 served more slapstick humour with superstars'and super remixes.
The fourth presentation of the Housefull franchise is apparently the biggest budget comedy genre has ever produced and packages more glamour- grandeur – also more madness combined with pigeons, horses, snakes and scorpions.
There cannot be a serious review or rating of a film like this, so take a chill pill and stay at home to celebrate your Diwali.
Bhawana Somaaya.