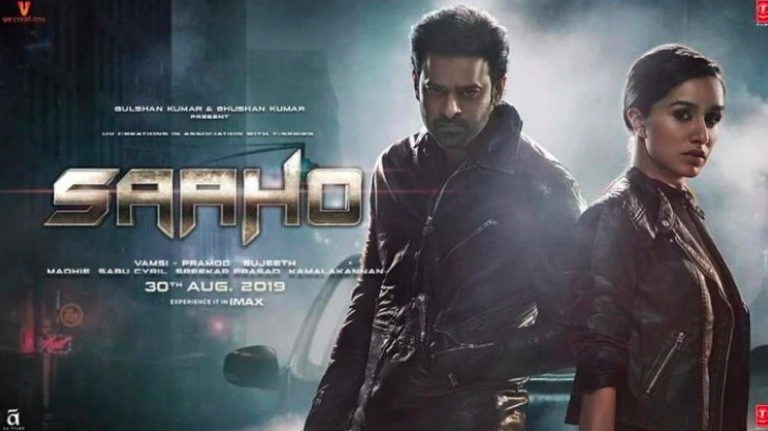 Migraine Guaranteed
Film: Saaho
Date: 29 August 2019 (India)
Director: Sujeeth
Cast: Prabhas, Shraddha Kapoor, Neil Nitin Mukesh
Ratings: 1.5 stars
The hero throws his parachute down the hill and then jumps after it but deliberately avoids using it, the only logical explanation is that he wants to show off his sculpted body.  Once he has accomplished that, he grabs the parachute and believe it or not lands straight on the dancing floor! If this sounds bizarre then this is just one of the many, mindless misadventures.
I'm not sure if Prabhas was guided by his PR machinery or it was his own decision but in all his promotion interviews the actor had a 2 point agenda: That Saaho is releasing in 4 languages Hindi, Tamil, Telegu, and Malaylam (good idea) and that it is 350 crore budget (bad idea) because eventually Saaho became about the budget not the content.
The film opens with a long prologue tracking the history of millionaire Roy/ Jackie Shroff leading to a group of villains seated around a rectangle table in a dark room of a plush building discussing 2 lakh crores. It is a room where alarm bells clang every time there is slightest danger.
In another city in a penthouse overlooking a buzzing street, a special cell is preparing to trap a dangerous criminal Jai/ Neil Nitin Mukesh who has been on the run for a long time. So that the audience does not get bored with  mundane details on the criminal, director Sujeeth distracts his audience with a romantic track involving cop Ashok/ Prabhas and his colleague Amritha/ Shradha Kapoor who sing songs dressed in glamorous costumes on exotic locations.
The police are about to nab the culprit but it is time for interval and the villain once again escapes. Post interval we are introduced to Saaho who smiles into the camera and says 'Showtime begins' and I hit my forehead and say 'Migraine time begins'.
While earlier we had speeding cars and bikes firing bullets without reason, now we have giant trucks and helicopters mindlessly firing machine guns.  Nobody is in the least bit alarmed when a bunch of goons invade hotel rooms, smash windows, break doors and shoot people on the spot. Nobody is offended by buildings blown up and cars flung into the sea. It is as if these characters inhabit an alternate world that has nothing to do with reality.
There are stories within stories and sub-plots within plots and everything is so contrived that we are no more certain about who is faithful and who is the enemy, who is the hero and who is the villain? My dear Prabhas, why did you have to do this to us? We loved you and your film Baahubali because your character was convincing and your film engaging. Not because it was a big-budget film!
Everything expensive is not precious and every big-budget film is certainly not a classic and Saaho proves this. Of what use is the lavish production, the exotic locations, the branded costumes, the high-tech action, seductive cinematography/music, and the superstar presence when the end product is so lightweight and does not touch my heart?
Of what use is the mighty 350 crore budget when all I can focus sitting in the cinema hall is the Interval and later The End so that I treat my bursting migraine with a steaming cup of tea.
I rate Saaho with 1.5 stars.
https://www.facebook.com/watch/?v=360036878280876
Bhawana Somaaya