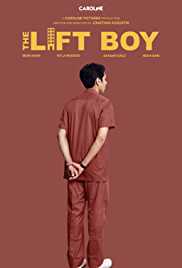 Simple and sensitive
Film: The Lift Boy
Date: 18.01.2019
Director: Jonathan Augustine
Cast: Moin Khan, Blessy Chettiar, Nyla Masood
On a sunny afternoon Galaxy Apartment's old and faithful liftman Krishna Tawade/ Saagar Kale suffers a heart attack and is admitted in the hospital. Tawade requests his son Raju to substitute him on duty and Raju who is clearing his engineering exams agrees half-heartedly. Terribly embarrassed initially Raju slowly begins to love his job and understands why his father is so proud of his uniform.
What works about the film is the simplicity of the story and the way it is narrated. What makes it special are the refreshing characters and their interpersonal relationships. The owner of the building Maureen Dsouza/ Nyla Maasood is an artist who lives alone. Then there is the 18-year-old Princess/ Aneesha Shah struggling in films at the behest of her ambitious mother.
Then there is Raju Tawade/ Moin Khan's own life comprising his parents and his close buddy Shawn/ Damain Dsouza.
Considering it is the story of a liftman a number of scenes are shot inside the cubicle (with a lollipop poster) which is a big challenge for the director because how different can a lift look eventually. He uses the lift as both a character and a metaphor in the film. Just as we press buttons of a lift and find our destination, our choices determine our ascent and descend in life.
Director Jonathan makes the right choice in sets/ costume/cinematography/dialogues except for a few exaggerations which can be overlooked. Mrs. Dsouza has to be a superwoman to learn to engineer overnight and impart knowledge to her student. She is an artist but we never see her work in progress, never see any sign or spot of color on her clothes or on her fingers.
She is the owner of the building but she has no car and travels by auto rickshaws. She has no friends, no family and no distant relative which is unusual. She is concerned about the liftman but never visits him in the hospital.
All the performances are praiseworthy. Saagar Kamle as Krishna is effective. Moin Khan makes a refreshing debut as Raju Tawade and Nyla Masood so far working behind the scenes as costume designer faces the camera for the first time and steals our hearts.
The Lift Boy is about the dignity of labor, about dreams, about humanity. It has the pride of literacy, the glow of hard work and the fragrance of compassion. It is very rare that you come out of a film smiling.
For lighting up our week with this sensitive offering I rate debut director Jonathan Augustin's The Lift Boy with 3 stars.
Bhawana Somaaya