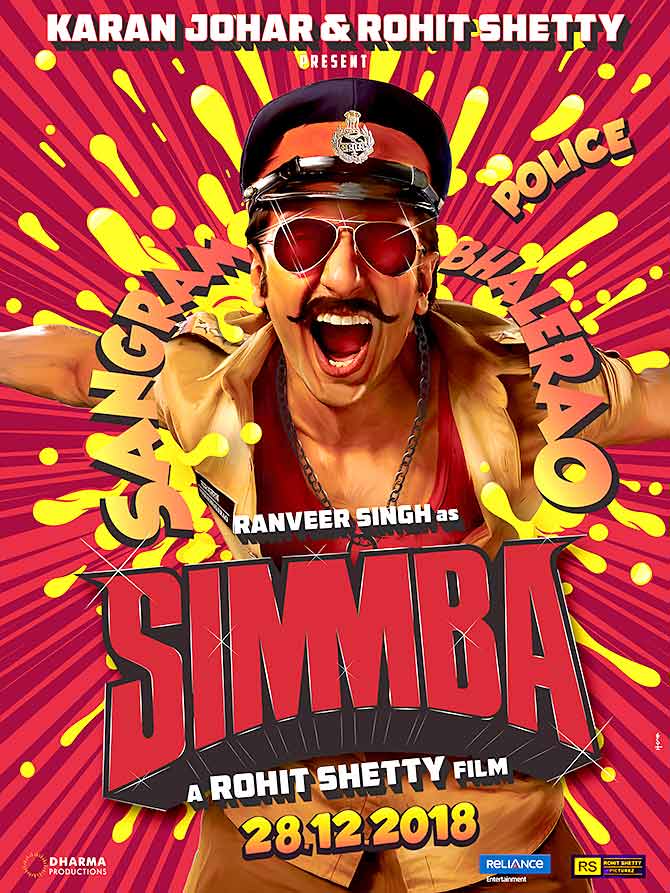 Film: Simmba
Date: 28.12.2018
Director: Rohit Shetty
Writer: Vakkantham Varnsi
Cast: Ranveer Singh, Sara Ali Khan, Sonu Sood, Ashutosh Rana
For eight years now Rohit Shetty has been serving us Singham stories and the action-comedy drama has been working every single time at the box-office. Starting with Singham/ 2011, Singham 2/ 2013 and Singham Returns/ 2014 filmmaker Rohit Shetty is ready with the fourth series Simmba.
In my opinion, there are four reasons for watching SIMMBA inspired by the Telegu film Temper.
It is a typical Rohit Shetty film and yet, it is different. It packages the right punches and laughter, does a quick recap of the prequel and moves on to dramatically introduce Ranveer Singh as Sangram Simmba Bhalerao who bursts on the screen riding a motorbike, jumping, dancing and splashing water all over the streets.
What is not like a Rohit Shetty film is that 30 minutes into the narrative and you realize that the director is on a different route this time – a more inward journey that includes emotional pauses, social responsibilities, and new challenges.
The script and the dialogues. While we are accustomed to fancy cars getting blown up in air and criminals bruised and beaten in a Rohit Shetty film, this time the script and the dialogues are outrageously hilarious.
There is madness in the surrounding and the madness has a method evident in character sketches and their dialect. There's and not a dull moment in the film and more, what unfolds makes a lot of sense!!
The film addresses issues. So far Rohit Shetty films have been about vendetta, about good triumphing over evil. This time Shetty extends his boundaries and sensitizes to multiple issues like street children and drug abuse. Like in his earlier films he hits out at corruption in the police force but also holds a mirror to cowardice in society.
Surprisingly Simmba is acutely gendered sensitive and makes a gallant effort to include female gaze and voice in the story. The judge, the female cops have a significant presence. When addressing rape the film gets into statistics, seeks opinion of the victim, potential victim and family. It condemns men but also women for breeding/ shielding such mindset.
Performances – Ashutosh Rana as Head Constable and Sonu Sood as Vikrant Kadamb are convincing. Sara Ali Khan, unfortunately, is underutilized and Ajay Devgn in a brief appearance makes an impact. Ranveer Singh effectively and enthusiastically absorbs the madness and mission of Sangram Bhalerao. It is not just about his swagger, aura, energy or the comic timing but also about his innocence and how he grips the audience.
So is there nothing wrong in the film – of course, there is plenty to complain. The opening sequence is overstated and overstretched. The second half is devoid of humor. The film is based in Goa but when it is time for songs the lead pair romance in foreign locations and lip sync to Punjabi lyrics.  Sara Ali Khan goes invisible in the second half and so does Sangram Bhalerao's Marathi dialect but all this is forgiven because the film has its heart in place.
In the olden days, Manmohan Desai made entertaining films and quietly slipped in a message into it. Rohit Shetty is slowly getting there.  I have never been a fan of Shetty films but this time I make an exception.
And I rate the intelligent and highly entertaining Simmba with 4 stars, Singh and Shetty you may take a bow.
Bhawana Somaaya