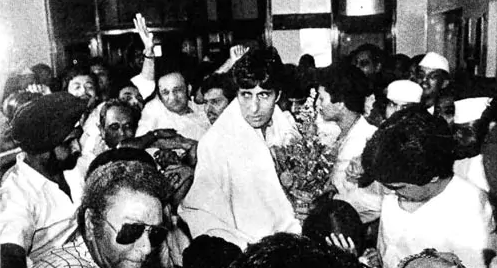 26 July 1982 was a regular day at Bangalore City's JBU Campus where Manmohan Desai was shooting an action sequence with Amitabh Bachchan and Puneet Issar. The fight master had explained the punches to both the actors and the director called out 'Action'. Amitabh Bachchan had to leap and land on the table but he mistimed his jump and hit the corner of the table instead of landing on top of it.
The shot was okayed, Amitabh got up with great difficulty and walked out of the sets. For or a while nobody realized what had happened and when they did, he was rushed to the hotel, investigated by a doctor who found no cause for alarm. But the pain did not subside and in the morning, an army of doctors arrived from Bombay and the actor was air dashed to Breach Candy Hospital, Bombay.
The coming days were filled with fear, uncertainty, multiple surgeries, complications, disappointments, deliberations, despair and in the meantime the entire nation prayed for the ailing actor, visited mosques, temples and carried him good luck charm from everywhere. During the hospitalization Ravi Tandon's Khuddar was released in cinema halls and for the first time black marketeers who purchase bulk tickets in advance booking sold tickets at normal rate, I know because I interviewed one of them at Rupam Theatre, Sion and he said 'Pura zindagi uski picture se kamaya, ab jab tak wo theek nahi hota,hum black mein nahi bechenge' .
There are innumerable stories of extra-ordinary gestures from strangers all over the country and world that keep propping up after so many years of the accident. Often, these stories are narrated by the contestants on the Kaun Banega Crorepati show and every single time Amitabh expresses deep gratitude, always attributing his recovery to their unending love.
On August 02 there was a medical miracle and finally Amitabh was declared stable by the hospital bulletin. A month later, he was discharged from the hospital and he looked a shadow of himself as he emerged from the hospital corridor, welcomed by a sea of faces outside blocking the entire compound and traffic on the road.